TOOLBANK USA DEPLOYS TRAILERS TO AID IN FLOODING CLEANUP AND REBUILDING
The ToolBank USA team has sent our disaster response trailer and camper to Whitsburg, Kentucky. Bill Hess, Disaster Services Manager, has set up camp and been working with our disaster relief partners from Team Rubicon, the Cajun Navy Ground Force, RISE Disaster Relief & Recovery, Inspiritus, and Catholic Charities. Prior to Bill's departure from Panama City, FL, he was able to stock up on fresh water and cleaning supplies donated from Catholic Charities. Upon arrival in Kentucky, Bill was also able to team up with US National Guard who has been responding to the flooded areas with manpower and supplies. ToolBank Disaster Services currently has tools in the hands of our disaster relief partners in Whitsburg, Hazard, Fleming-Neon, Jackson, and Wayland, KY.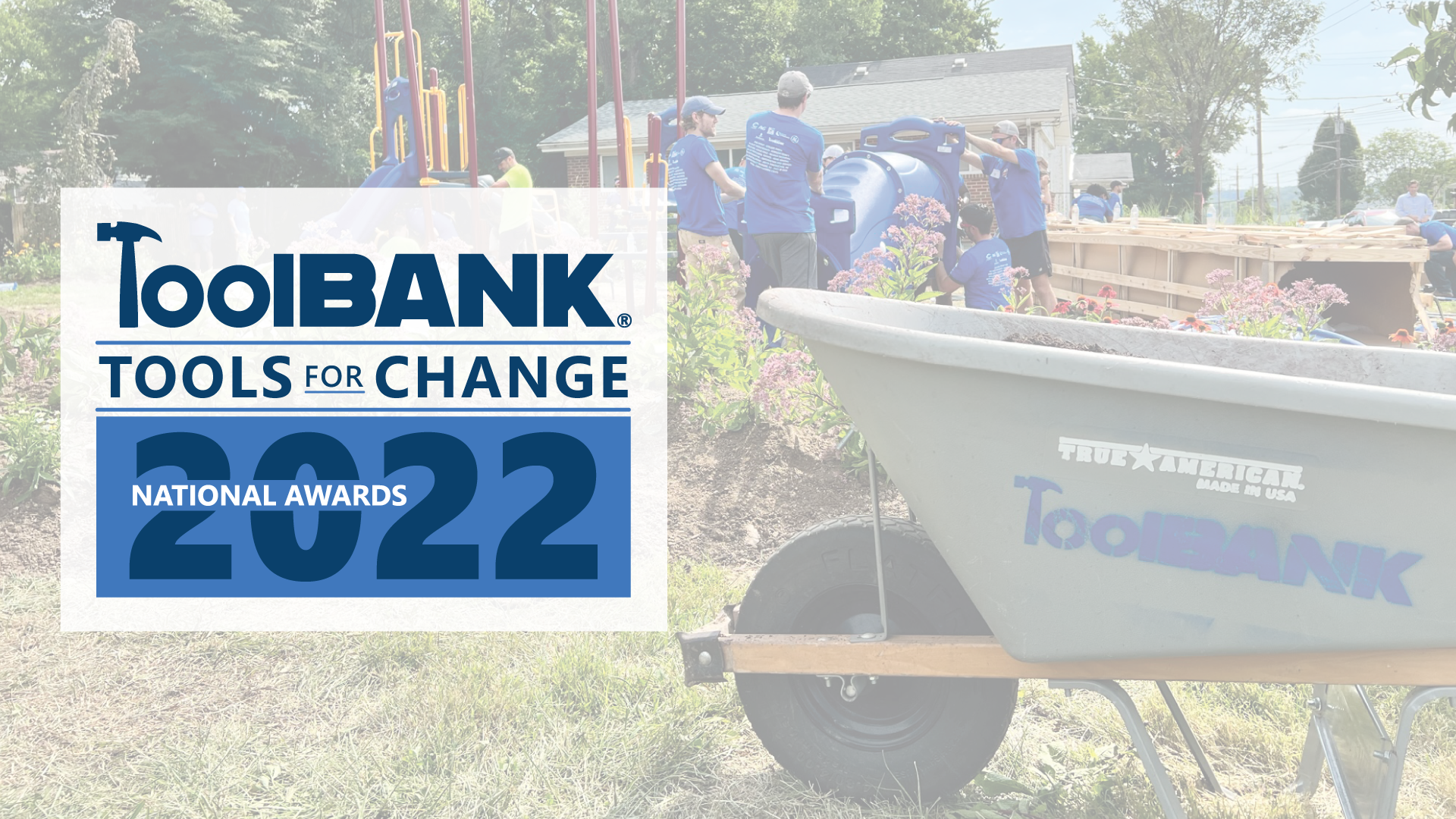 ToolBank USA National Awards – SAVE THE DATE
The ToolBank USA team is excited to host our National Awards at the Cincinnati ToolBank this year. The awards program will be held on Thursday, November 17 from 7:00pm – 8:30pm. We will live stream the event and host some of our supporters, board members, and friends at the Cincinnati ToolBank.
If you are interested in sponsoring or attending this year's awards show, please contact Julie Italiano, Director of Marketing, at julie.italiano@toolbank.org.
Atlanta ToolBank Update:
The Atlanta ToolBank hosted Park Pride and Friends of the Park for a Green Space Gathering on August 25. The group was able to tour the ToolBank and learn ways that our organization can upcoming service and volunteer projects. This event was also a great way for our member agencies to meet each other!
Atlanta also is sending out A BIG THANK YOU to Newell Brands for an amazing donation of brand new Rubbermaid Commercial Products…mops, mop buckets, brooms, trashcans, dust pans, consumables, and more. Through this donation, the Atlanta ToolBank will be adding mops and mop buckets as new items to our inventory, and replacing older worn-out tools with brand new ones!
Baltimore ToolBank Update:
Our Baltimore ToolBank hosted a big volunteer group from T. Rowe Price at the beginning of August. The 50 volunteers came to the ToolBank for an important day of service. During their day at the warehouse, the group was able to utilize gray water from the ToolBank's rain barrels to clean their blue tools. They refreshed blue tools with a fresh coat of paint, paired gloves, and washed playground blocks by the hundreds! Over 180 service hours were logged in a single day. Our ToolBanks cannot thank our corporate volunteer partners for helping around our warehouses. Without your support, it would be a challenge to provide the quality of products to our member agencies.
Charlotte ToolBank Update:
In August, the Charlotte ToolBank said goodbye to their summer interns, Willa and Cameron. The interns are students at Fort Mill High School and  Providence Day School. With their help, the Charlotte ToolBank was able to serve 159 member agencies and fulfill 322 tool orders!
If you're in the Charlotte area, save the date for their Hammers & Ales on Thursday, October 13! Tickets can be purchased at: https://www.accelevents.com/e/hammersandales2022.
Cincinnati ToolBank Update:
The Cincinnati ToolBank hosted their 10-Year Anniversary Party on Monday, August 10th. The ToolBank team was joined by over 100 guests including founding and current board members, sponsors, member agencies, and the Mayor of Cincinnati, Aftab Purval. Founding board president, Doug Adams kicked off the program and was followed by the Mayor and current board president, Ryan Reckman. Executive director, Kat Pepmeyer rounded out the speeches and presented a number of member agencies with custom awards. The celebration included light bites from Penn Station and Graeter's Ice Cream along with some refreshments from Alpine Valley and Cincinnati's 2021 Brewer's Philanthropy Award Winner, Third Eye Brewing.
If you're in the Cincinnati area, join the ToolBank team for Hammers & Ales on Saturday, October 8! Get your tickets today!
Houston ToolBank Update:
The Houston ToolBank has hosted a number of very special guest at their warehouse, including State Representative Ana Hernandez in July and most recently District F Council Member, Tiffany Thomas. Tiffany stopped by for a tour of the warehouse and discussed disaster preparedness and relief. After Winter Storm Uri in 2021, Thomas used her council funding to partner with the Houston ToolBank. This partnership between the council and ToolBank will provide local disaster pop-ups throughout her district at WHAM, Church Without Walls-Eldridge, and Piney Point Elementary. While we hope a natural disaster doesn't strike any of our communities, we are very lucky to be able to help the communities during their time of need with our tools and equipment at NO COST.
Phoenix ToolBank Update:
The Phoenix ToolBank welcomed their newest member to their team in August! Executive director, Jana Ferraro, hired Christy Broaddus as their new Warehouse Program Manager. Christy will be a welcomed addition to the staff as they gear up for their busy fall season of tool lending.
Along with their new team member, the Phoenix ToolBank hosted some amazing volunteers from Arizona Public Services (APS). These volunteers helped fill 161 tent weights with sand, checked the generators in inventory, hang trash grabbers, restock chairs, and cleaned some blue tools. This group was so efficient that they were able to complete all of these tasks in only 2 hours!
Richmond ToolBank
A few months ago, the Richmond ToolBank launched their new website and along with it sprung a new blog and podcast. In their most recent podcast, executive director, Toby Vernon, talks about how the Richmond ToolBank provides the necessary resources to fulfill community and corporate initiatives and support for sustainable volunteerism.
The podcast, "Building Change – One Tool at a Time", can be listened to at: https://www.richmondtoolbank.org/filling-in-the-gap. We look forward to many more blog posts and podcasts from the group at the Richmond ToolBank!
Windy City ToolBank
After moving into their new warehouse in July, the Windy City ToolBank hit the ground running! The ToolBank equipped over 400 volunteers from The Mission Continues during their Operation Chi-Town Salute. This massive volunteer event lasted 4 days and the group completed 60 projects with Windy City ToolBank tools. Our ToolBank USA team members, Bill Hess and Jaime Valle, joined executive director, Jim Flory, during this fun-filled volunteer event. Great work on tackling your first large-scale volunteer project in Chicago and we look forward to hearing about more blue tools impacting your community!