TOOLBANK

serves community-based organizations by providing tools, equipment & expertise to empower their most ambitious goals.
The ToolBank concept was created in Atlanta in 1991 with the idea of neighbors helping neighbors by giving their time and loaning their tools to do home repairs for their neighbors in need. In 2008, ToolBank USA was launched to replicate the model and establish ToolBanks throughout the United States. The ToolBank's signature lending model allows charities to focus on their mission by relying on ToolBanks to provide, store, and repair critically-needed tools and equipment. ToolBanks share their resources with charitable groups so they can equip volunteers to efficiently complete work in less time, with the right tools, at minimal costs. Using ToolBank tools, community-based organizations avoid the expense of purchasing, repairing, and storing tools. Each year, the ToolBank recognizes a ToolBank Affiliate who has been outstanding in furthering the mission and vision of the ToolBank.
OUR MISSION
The mission of the ToolBank is to serve community-based organizations by providing the tools, equipment, and expertise needed to empower their most ambitious goals. Our vision is to equip all communities with tools for change.
TOOLBANK USA VALUES
We are a values-based organization that serves our affiliates, member agencies, volunteers, community partners, associates, and suppliers with open hearts and equity.
RESPECT & INCLUSION
We believe in diverse and inclusive participation in our communities and we intentionally strive to create a welcoming environment for all people, regardless of race, sex, age, gender identity, sexual orientation or creed.
INTEGRITY & TRANSPARENCY
We are committed to the highest standards of personal and professional integrity. We support transparency in our financial and operating standards and commit to accountability.
CUSTOMER SERVICE
We are committed to accessibility, professionalism, and open communication focused on those we serve. Our goal is to exceed the expectations of all member agencies, volunteers, donors, and visitors.
TOOL STEWARDSHIP
We manage ToolBank resources responsibly to maintain inventory value, promote long-term viability, and ensure responsible usage and care of the tools by the borrower.
SAFE USAGE OF TOOLBANK TOOLS
We believe in our responsibility to foster and maintain strong relationships with our member agencies that promote responsible usage and care of ToolBank tools.  We acknowledge our duty to practice sound stewardship in all activities with our member agencies related to the promotion of safety and responsible usage and care of the tools.
COMMUNITY BUILDING
We have a responsibility to collaborate with our partners to best support the interests of the communities in which we serve.
Krish Das
President
Ulta Beauty
Jim Richmond
Past Presiding President
InMoment
Melissa Slone
Vice President
StrongMind
Camille Smith McMakin
Secretary
Alston & Bird
Eric Jacobs
Treasurer
Finance Director
Kimberly Antifave
Director
MarketAxess
Kathleen (Katie) Barton
Director
Kilpatrick Stockton, LLC
John Byrd
Director (Affiliate Board Rep)
ByrdGEO / Houston ToolBank
Kyle Green
Director
Ford Motor Company
Jon Howland
Director
Stanley Black & Decker
Bill Kruger
Director
UPS
Paul Mitchell
Director
Retired IT
Brian Pham
Director
Break a Difference
Abby Probst
Director
Grainger
Kitt (Kathryn Shipe
Director
Shipe Dosik Law LLC
Wesley Staggs
Director
PatientPoint
Toby Vernon
Affiliate Executive Director Representative
Richmond ToolBank
Patty Russart joined ToolBank USA as CEO in May of 2018. Since late 2008, Patty was the Executive Director for the Atlanta Community ToolBank (ACTB). Her mantra is 'where there is a will there is a way' and that is how she approaches fundraising for the ToolBank. Patty successfully completed a $1.525 million Capital Campaign for the ACTB, which allowed them to purchase a much larger warehouse space and add a Tool Training Center.
Favorite Tool: Nifty Nabber
Trey Bearden
CPO
Trey joined ToolBank USA as Chief Program Officer in July of 2018. Most recently, Trey served as the founding Executive Director of the Richmond Community ToolBank. The process of building a ToolBank from the ground up taught him that action creates clarity and that the answer is always no unless you ask! 
Favorite Tool: The right tool for the job
Kate Juergens
Executive Office & Compliance Manager
Kate joined ToolBank USA in 2016 with a background in advocacy and operations support for nonprofit organizations in Atlanta. She has experience working with immigrant and refugee families to provide services for victims of domestic violence and sexual assault. She is fluent in Spanish and has a passion for her two rescue cats, English literature, and Argentine tango. 
Favorite Tool: Power Sander
Bill Hess
Director of ToolBank Disaster Services
Bill is a US Marine Corps Veteran, having served 22 years active duty retiring with the rank of Master Sergeant. Bill joined the team in 2021 and currently serves in the role of ToolBank Disaster Services Manager. He began volunteering in Panama City after Hurricane Michael with the TDS team which eventually lead to him being brought on as a full-time team member.
Favorite Tool: Fubar…it demands authority!
Julie Italiano
Director of Marketing, Communications & Outreach
Julie joined the ToolBank USA team in 2021 as a way to continue her passion for the ToolBank network after years of involvement with the Cincinnati affiliate. She brings an extensive marketing, advertising, and graphic design background to the organization and looks forward to translating these skills from a for-profit space to the nonprofit world. She's an avid golfer, enjoys traveling and spending time with her Yorkie, Cici.
Favorite Tool: Tape measure. Measure twice, cut once!
Jaime Valle
Program Manager - TDS - Puerto Rico
Jaime is a native of Mexico and moved to Puerto Rico 21 years ago. He joined the ToolBank team in 2021 as the Disaster Services Manager for our Puerto Rico location. Jaime is a highly tenured disaster response and rebuild volunteer, starting back in 1985 during the earthquake in Mexico and most recently helping with the efforts after Hurricanes Irma and Maria and earthquakes in 2019/2020 in Puerto Rico. He aided in training workers and volunteers on roof reconstruction.
Jaime serves as a member of the board of directors and as a consultant for the Long-Term Recovery Group of San Juan. He also offers up consulting work for ProTechos and provides training for students and member agencies on tool handling and safety.
Favorite Tool: Chainsaw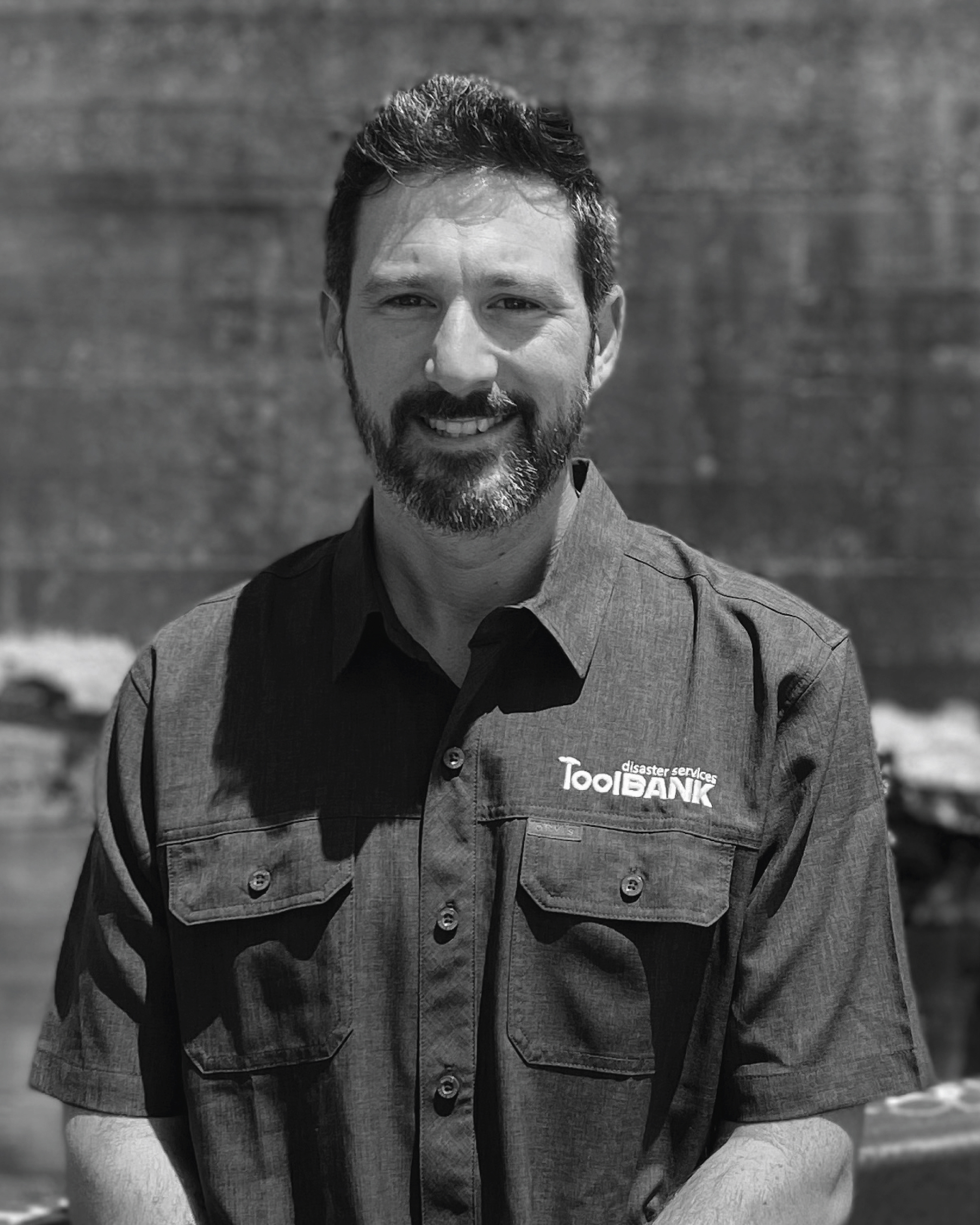 Dan Melia
Program Manager - TDS - New Orleans
Dan was raised in the San Francisco Bay Area, but has lived in New Orleans since he was sent there by the Navy in 2007. He served as a Navy Corpsman for 5 years, and has always dedicated himself to a life of service to the community. Dan's first disaster recovery volunteer experience came in 2012 in Violet, LA, where he helped clear roads blocked by fallen trees after Hurricane Isaac. Other than serving the community, Dan's greatest loves are his dog Clara and the sport of baseball.
Favorite Tool: Ratchet…it works in many ways and gets the job done.
Deanna Ward
Program Manager - TDS - Fort Myers / Punta Gorda
Deanna joined the ToolBank Disaster Services (TDS) team after Hurricane Ian devastated the west coast of Florida. She has always had a passion for tools and fixing things, so it was a natural fit to join the ToolBank team and incorporate those skills with the ability to help people. Deanna has a real estate background, so after the hurricane hit, many of her listings and homes of friends and neighbors were destroyed. Getting involved with TDS in her area was the perfect way for her to give back to the community and get tools in the hands of volunteers to help with the cleanup and rebuild efforts.
Favorite Tool: Screw Gun…super versatile tool that can build and deconstruct just about anything!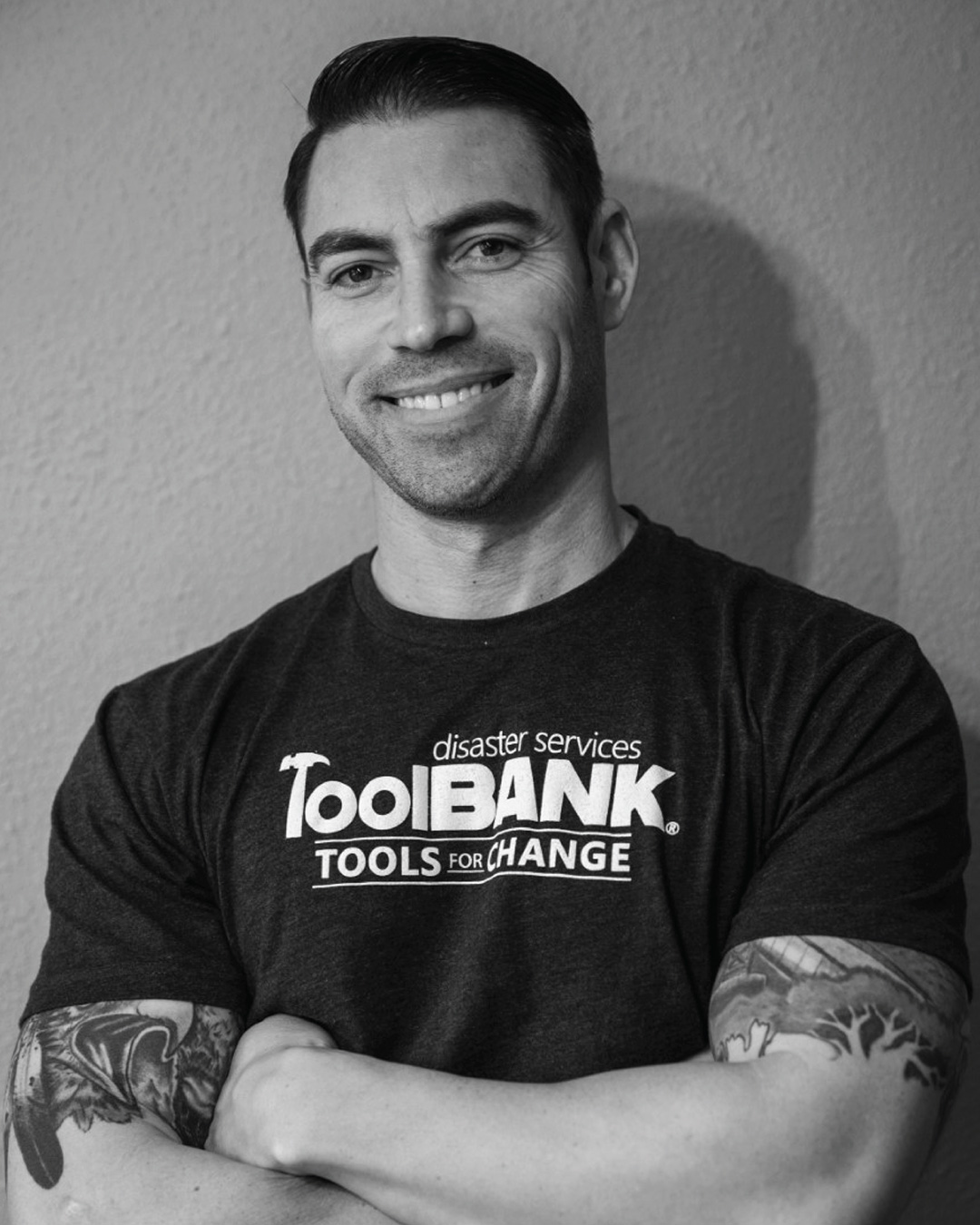 James Ramos
Program Manager - TDS - Sacramento
James joined the ToolBank Disaster Services (TDS) team in January of 2023 to help with our expansion into California. He is a Sacramento native and graduated with a BA in Sociology from Sacramento State. He was introduced to the ToolBank by his stepfather who is the Executive Director of the West Slope Foundation. ToolBank helped set up the foundation with a mini ToolBank to aid in wildfire relief efforts. James loves to work out, play golf, softball, and fish. He looks forward to helping the California communities rebuild after years of devastating fires and other natural disasters.
Favorite Tool: Impact Driver
Are you interested in becoming an investor with the ToolBank? Take a moment to fill out the information below and we will contact you.