Our team at ToolBank USA looks forward to keeping all of our ToolBankers up-to-date with what is happening across our network. Thank you for reading our monthly newsletter and don't forget to follow ToolBank USA and our affiliates on social media for immediate updates! Affiliate social media links can be found below their updates.
ToolBank USA's CEO, Patty Russart's Interview on The Dave Nemo Show
ToolBank USA's CEO, Patty Russart, had the pleasure of joining Dave Nemo and his co-host, Lindsey, during his Thanksgiving weekend show on Sirius XM. The group discussed how the ToolBank was started and how our affiliate ToolBanks help their local communities. Patty explained the role ToolBank Disaster Services plays after a disaster strikes and highlighted the fact that we lend tools and equipment at no cost to organizations aiding in the relief and rebuilding efforts. Dave and Lindsey were pleasantly surprised by the size and scope of the ToolBank's mission and encouraged their listener-base to donate to our cause. It was a great 20-minute interview with their crew and we look forward to more opportunities to spread the ToolBank mission to the masses! 
ANNOUNCEMENT: New ToolBank USA Board President
ToolBank USA is thrilled to announce that Krish Das will serve as our Board of Directors President starting on January 1, 2023. Krish joined the ToolBank USA board in June of 2021. He chose to serve on the board of the ToolBank because of our mission's simplicity and the enormous impact we have on the communities we serve, especially regarding the environment. In 2022, the ToolBank network loaned out $12.9M worth of tools and equipment to its members to equip 194,288 volunteers. This number is a direct saving to the nonprofit communities in which they serve. For those impacted by natural disasters in 2022, ToolBank Disaster Services loaned out $4.2M worth of tools at no cost to our disaster relief partners to aid in the initial recovery efforts.
ToolBank USA and our network deals in big numbers and with an expansive inventory of tools. Krish brought his data analytics experience to our board to help the ToolBank network expand to serve more communities. When the board presidency position became available, Krish immediately volunteered his time and talents. His vision is to create a board of directors that is involved and engaged while elevating ToolBank to the next level by increasing corporate and individual giving. Krish is motivated to help ToolBank USA expand our network of community ToolBanks and ToolBank Disaster Services locations. Our ToolBank USA team is excited for what's to come under the leadership and direction of Das.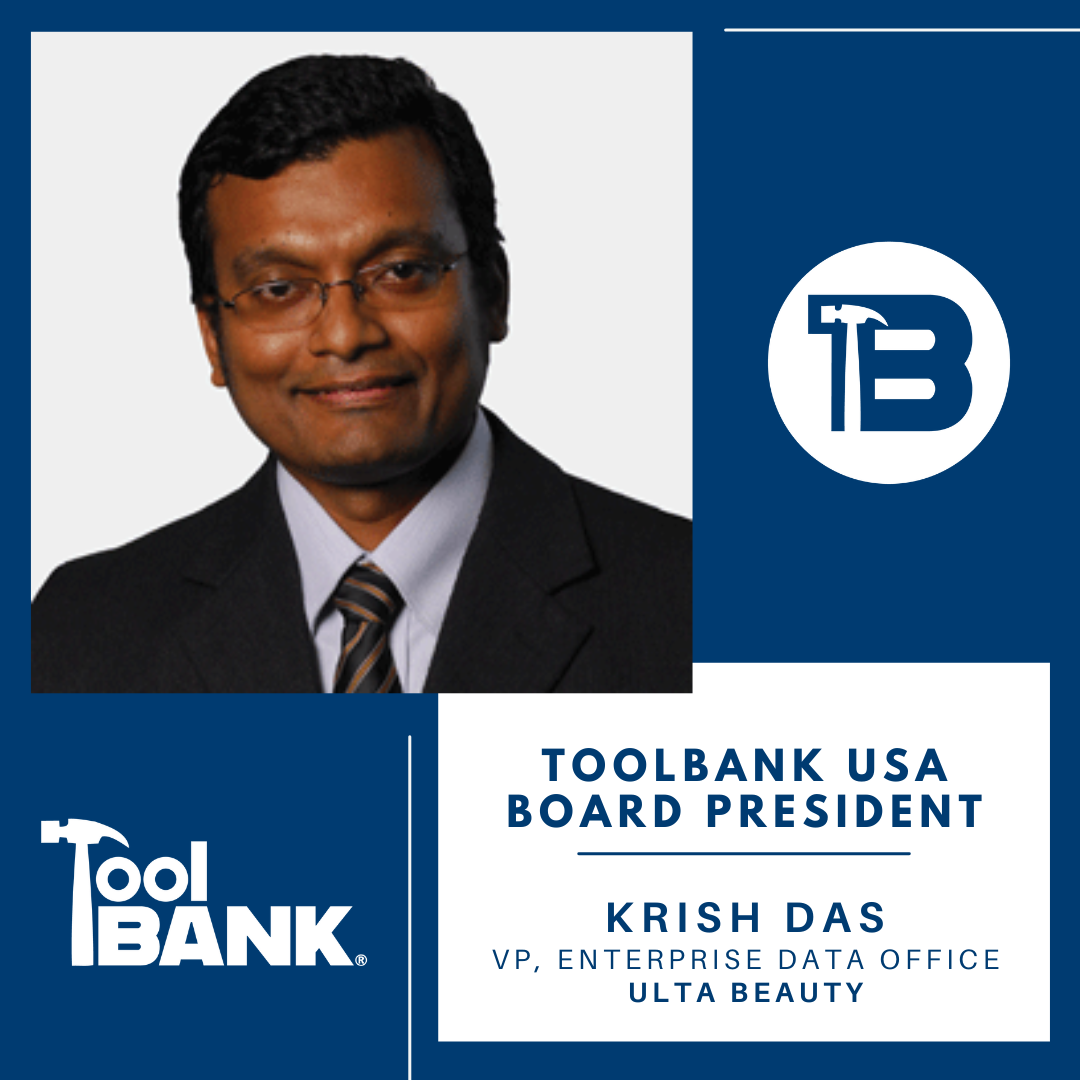 NEW Tool Order Manager (TOM) is coming!
We have very exciting news to share. Our new Tool Ordering Manager (TOM) will be launching in early 2023!
This platform will help our members place tool orders more efficiently and allow us to have better reporting on all of the wonderful projects our members are doing in the community.
 
Please be on the lookout for emails from the your local ToolBank. These emails will provide essential instructions on how our members need to transition over to TOM. We look forward to getting all our members on the new platform in the New Year. Stay tuned for more updates!
Check out what's going on at each of our ToolBanks across the nation. Scroll down to each affiliate and expand the text block to read more about your favorite ToolBank team. All of our affiliates are doing amazing work and we can't wait to share their updates with you monthly.
Make sure and scroll through the images to the right of our affiliate updates. Most of the updates come with a couple of images related to their article.
Atlanta ToolBank Update:
The Atlanta ToolBank wrapped up 2022 with a couple of incredible volunteer days at their warehouse. The Home Depot brought 70 volunteers to the ToolBank. They helped paint 315 tools, fix 57 wheelbarrows, inspected and repacked 93 tents, made 159 glue sticks, cut 500 stickers, and packaged 288 kits for the ToolLab Kids series, and help prepare marketing material for 2023.
Bain & Company also stopped by with a group of volunteers in December. This group was able to inventory 43 different tool types, repair wheelbarrows, organize and store over 300 tools and power-wash 50 garbage cans. Great work done by all of the volunteers…your groups are a vital resource to our ToolBank Network! 
Baltimore ToolBank Update:
The Baltimore ToolBank continues to help empower their community partners who provide a much needed meal during the holiday season. The ToolBank provided 80 tables and dozens of chairs for the 41st annual Bea Gaddy Family Center dinner, food giveaway, and home food distribution event. 
The event's reach is incredible: 15,000 community members in East Baltimore served by 1,500 volunteers!
Charlotte ToolBank Update:
The Charlotte ToolBank held their annual Tool Rush sale in December. The event took place on the first Saturday of the month and the ToolBank team welcomed multiple groups of volunteers to help set-up and work the sale. Volunteers from Duke Energy and Clancy & Theys helped with pre-sale prep work on the days leading up to the big sale. Tools were sold for 50% off and included a huge variety of DIY kits, power tools and accessories, landscaping equipment, cleaning supplies, tool boxes, and so much more! 
Tool Rush attendees even had a chance to get their picture taken with Santa! Congratulations on an extremely successful Tool Rush, Charlotte…you should be very proud of hosting your largest Tool Rush to date! 
Cincinnati ToolBank Update:
The Cincinnati ToolBank and their super fun supporters did some bartending for a good cause before two home Cincinnati Bengals games in December and early January. All the tips from the four beverage booths at the Banks went to support the Cincinnati ToolBank. The volunteers pour a record amount of adult beverages during a few chilly Sundays and ended up make the ToolBank over $6,000!
Many thanks to Cincinnati Board Member, Cheryl Nieheisel, for introducing us to your fabulous event management friend, Laurie Salzarulo, from 11 Events Group. We look forward to more bartending opportunites during Cincinnati's busy sporting event seasons. 
Houston ToolBank Update:
The Houston ToolBank hosted a number of volunteer groups during the month of December. Volunteers and staff enjoyed a holiday potluck afternoon…and it looks like there were even some presents involved!
Members of the Port Houston also stopped by for a volunteer day during the holidays. Their team helped build student desks and brought a huge tool donation with them!
Also, don't forget if you're in the Houston area, stop by the Light the World Giving Machine and donate to the ToolBank!
Phoenix ToolBank Update:
The Phoenix ToolBank had an incredibly busy holiday season. Their team helped equip the Valley of the Sun United Way Day of Action volunteer day. The volunteers were able to complete nearly 600 hours of work in the community. The Phoenix ToolBank not only helped provide the tools and equipment for the event, but they also hosted one of their volunteer sites.
Phoenix also hosted its last board meeting of the year and holiday party. They voted on two new board members and celebrated their fabulous year of tool lending. Check out the holiday pictures to the right…someone made a beautiful charcuterie board for the event!
Richmond ToolBank
The Richmond ToolBank teamed up with HandsOn Greater Richmond to host a Day of Service in honor of Martin Luther King Jr. Day. Over 80 volunteers gathered at Ettrick Elementary School. They built 10 garden beds that will help the children learn about gardening and sustainability during the spring. The volunteers also built 17 picnic tables that will not only benefit Ettrick Elementary School, but a number of local schools in the community.
For more information on volunteer opportunities in the Richmond area with the ToolBank, visit HandsOn Greater Richmond at: https://www.handsonrva.org/opportunity/a0C5c00000MqZbLEAV/richmond-community-toolbank-general-warehouse-and-tool-maintenance  
Windy City ToolBank
December is the 3 month mark for our Windy City ToolBank being open. Since they opened their doors they've been making an impact in their community by saving local nonprofits over $20,000 by borrowing our tools to equip over 350 volunteers.
We look forward to seeing these numbers grow in 2023 and can't wait to share more pictures of blue tools being put to work in the Chicago community.
Consider helping the Windy City ToolBank FILL THE RACKS in Chicago by donating to their campaign at: https://givebutter.com/FilltheRacks.