Happy New Year from the ToolBank USA Team!
On behalf of our entire team, we would like to wish all of our ToolBank affiliates, their staffs, our board of directors, partners, and supporters a Happy New Year! We hope that the start of you new year has been amazing and that everyone is sticking to their resolutions. As we move into 2022, we look forward to sharing our successes for ToolBank nation and look forward to continuing to share updates in our monthly newsletter! If you have any suggestions on content you would like to see in the newsletters, please our Director of Marketing, Communications, and Outreach, Julie Italiano.
ToolBank Disaster Services Deployment: Mayfield, KY Tornado
ToolBank Disaster Services (TDS) deployed Bill Hess, our TDS Manager, and Trey Bearden, Chief Program Officer, along with our Ford Transit and camper to Mayfield, KY after the town was devastated from the December tornado outbreak. The tornado sliced through western Kentucky, killing at least 75 and destroying thousands of homes and buildings, has been designated an EF4 by the National Weather Service. The preliminary rating, announced Wednesday night, means the twister's winds reached around 190 miles per hour. The EF4 tornado was on the ground for at least 163.5 miles in Kentucky, but the full track is estimated to be longer than 200 miles, and its destruction was at least a mile wide.
Atlanta ToolBank Update:
If you're in the Atlanta area, try to sign up for one of their amazing CrafterHours! Their calendar of projects is up on their website and it looks like they have some great builds planned for 2022. We may have missed the January build, but there are still 11 left this year. The ToolBank USA had the opportunity to do a team build when we were all at the Atlanta ToolBank in November…and it looks like everyone will have that same opportunity in April to build a really nice votive candle holder.
Baltimore ToolBank Update:
Charlotte ToolBank Update:
The Charlotte ToolBank is excited to welcome their new Executive Board of Directors. Their 2022 Executive Board Members include; Dan Stewart, PNC – President | Darby Bryant, Ally – Vice President | Brad Porter, Deloitte – Treasurer | Allie Alu, Turner Construction Company – Secretary. Welcome to the ToolBank leadership team!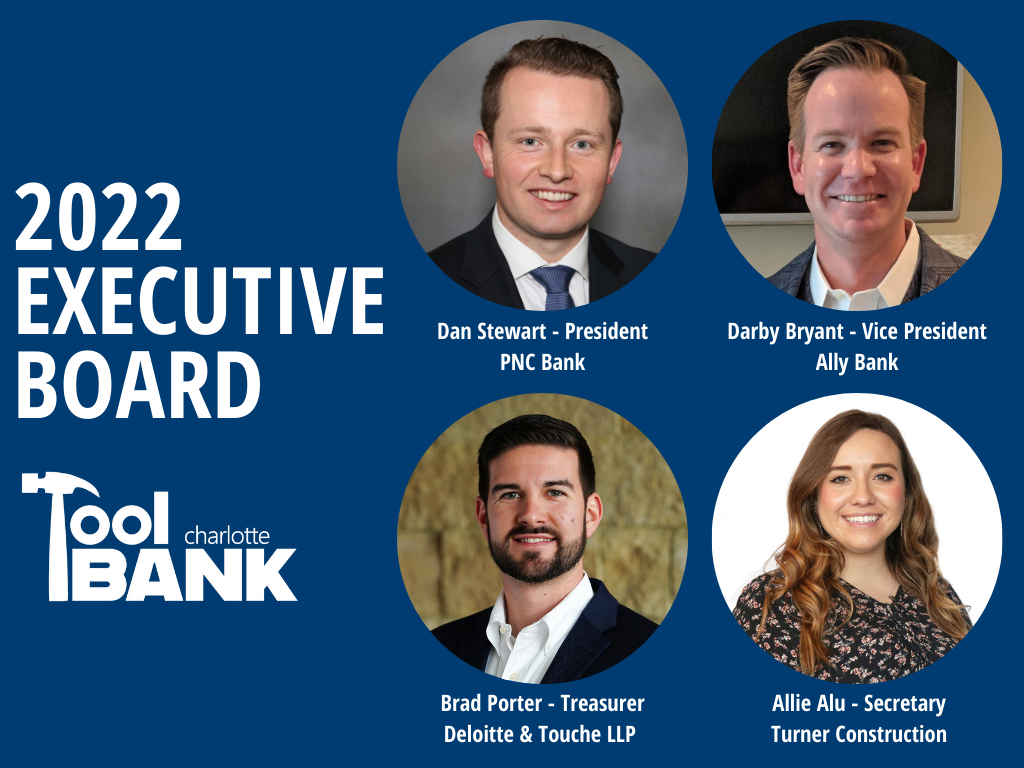 Cincinnati ToolBank Update:
New board Member, Brett Collins, is already utilizing the community space at the Cincinnati ToolBank. Brett brought in a group of executive leaders from his Vistage group to have a meeting and tour of the ToolBank. Vistage is the world's largest CEO coaching and peer advisory organization for small and midsize business leaders. They offer the most effective approach to achieve better results, grow your company faster and maximize your impact as a leader. For more than 60 years, Vistage has helped CEOs, business owners and key executives reach new levels of success. 
Houston ToolBank Update:
The Houston ToolBank started off 2022 with a bang! They provided gloves, paper towels, and more than 32,000 masks and 1300 bottles of hand sanitizer to a number of organizations in the Houston area. Two of the organizations that benefitted from this PPE are Recipe for Success Foundation and Hope Farms. Recipe for Success combats childhood obesity and transforms lives by making healthy food fun, tasty, affordable, easy, and accessible. Hope Farms is a seven-acre site, in the shadow of downtown Houston. They grow affordable, healthy produce, offer an on-site farm store and home produce delivery, train new urban farmers and provide a place for the entire community to learn about and celebrate fresh, locally-grown food with cooking and gardening classes for all ages and events to celebrate the harvest.
Phoenix ToolBank Update:
The Phoenix ToolBank had a pretty cool visit from their friends at Love Glasses Revolution. Tara and her crew stopped by the ToolBank for a tour and to learn more about what the Phoenix ToolBank has to offer the local community. Check out their video to the right. Also, if you're looking for a new set of shades or just a pair of glasses to lift your spirits, visit Love Glasses Revolution's website and read their story: https://www.myloveglasses.com/
Richmond ToolBank
The Richmond ToolBank started off their year partnering with the Virginia Home for Boys and Girls for a bicycle drive. The ToolBank provided storage and transportation for the donated bikes. Virginia Home for Boys and Girls is a nonprofit organization that has been serving children in crisis since 1846. Their mission is to help children across VA with emotional and behavioral health concerns by facilitating the healing process.
Windy City ToolBank
Jim (James) Flory officially started his role as Windy City Executive Director on January 1, 2022. He spent some time at the Atlanta ToolBank with ToolBank USA's CEO, Patty Russart, during his first few weeks on the job. Jim plans on heading to Louisiana to help Trey Bearden, ToolBank USA's COO, and Bill Hess, ToolBank Disaster Services Program Manager | Panama City, with setting up a more permanent space to aid in the rebuilding efforts after Hurricane Ida. Jim comes with much knowledge of ToolBank has he worked closely with our ToolBank Disaster Services program in Atlanta. He joined Team Rubicon and worked, both globally and domestically, in several leadership roles. He brings a lot of knowledge about nonprofit work, volunteers, and most importantly tools! Welcome to the team, Jim!